Clean. Delicious. Water. Quality controlled in your home.

With the quality of our drinking water increasingly coming under question, people are now looking for alternate sources of quality water. Reverse Osmosis Drinking Water Systems provide the most convenient and economical solution. Neatly stored under the counter, the RO system provides you with clean and delicious water right from its own dedicated tap.
New: 5 Stage Reverse Osmosis Water Filtration System
Stage 1: Sediment filter – 5 micron
Stage 2: Activated carbon prefilter – carbon block 5 micron
Stage 3: Activated carbon prefilter – carbon block 5 micron
Stage 4: Reverse Osmosis Membrane – thin film composite
Stage 5: Polishing filter – Granular activated charcoal


This new 5th filter absorbs and residual tastes or odors just before the water is delivered to your tap.
We're very excited to be able to offer this 5th filter on all the reverse osmosis systems we install.
Our 5 stage reverse osmosis water filter improves the taste by removing the contaminants that cause it. It helps you save money by eliminating the need for delivered bottled water and does so at a fraction of the cost… only pennies per gallon, and they're easy to clean.
What Does Reverse Osmosis Remove?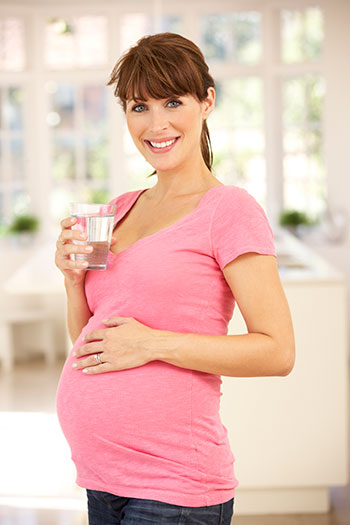 The quality of water from your municipal source has been treated for you, but it's not anywhere near what you could call pure. Reverse osmosis is a very simple and convenient method to make your water cleaner, and ready for consumption.
Metals – according to the CDC, RO systems will remove copper, fluoride, chromium and lead.
Minerals – Like a water softener, an RO water filtration system will remove calcium and magnesium, but because it's in place after making it's way through your pipes, will not protect your plumbing. Only a water softener and conditioning unit will do that. It may also removes potassium, nitrate and phosphorous.
Bugs, bacteria and Viruses – Reverse Osmosis is highly effective at removing protozoa, bacteria and viruses as the water passes through the ultra fine membrane.
Care and Operation Costs of RO Filtration System
Once installed, annual costs incurred for maintaining an RO water filtration system include replacement of the pre-treatment filter. The membrane should last up to 5 years, but depends on the quality of the input water coming from your source. With the addition of a water softening system for your entire house, the pre-filters and membranes will last much longer.
The secret to the best quality of water is a water softener first, followed by reverse osmosis or an automated distiller. An RO filtration system is considered a water appliance, and with all water appliances, a soft water conditioner will protect it, let it perform at optimum efficiency and last much longer.
As with all our products, a 30 day free trial is available so that you can experience the difference a home water system can make in your life.
Specifications
Reverse osmosis membrane, nominally rated at 75 US gallons per day
5 stages of filtration
Non air gap faucet, stainless steel
Plastic storage tank: 14 litre / 3.8 Gallon
Have one of our knowledgeable staff speak with you about a water filtration system for your home.
If you would like further information, you can reference our FAQ about RO machines.